Elie Saab S/S 2010 Coutoure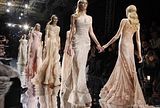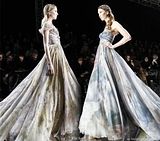 Ellie Saab always manages to take my breath away. His collections are so soft and romantic; they look like they have come straight out of a dramatic romantic French film.

For Spring Summer 2010 he has gone for Pale, washed out shades of lilac, indigo, mushroom and a lot of beige, surprisingly no white.
Dresses so stunningly beautiful they give you that funny feeling in your tummy the Nude Birkin does.

The make up is natural and there is the minimum amount of jewellery.
The Dresses Dazzle enough.